Erotical NIGHT ver.1.5 (Language: English)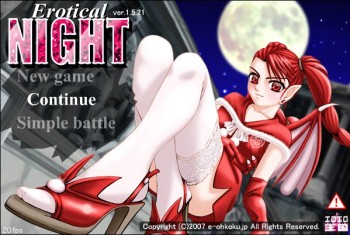 Adult Porn-Game
NFO
Genre: Flash, jRPG, Succubus
Censorship: None / a patch to remove
Developer / Publisher: e-ohkoku
Platform: PC / Windows
Publication Type: Informal
License: Freeware
Version: 1.5.21
Language: English
You have been called upon to save a once peaceful land from the clutches
of the evil, demonic Erotica Army!
You will take the role of a mighty sexual warrior and venture forth to
liberate the towns and villages from Erotica's oppression.
As in any RPG, the player traverses fields and dungeons, fighting the
enemies that appear on the way.
There is no troublesome increase in difficulty to contend with. The player
may escape from any normal fight with 100% probability of success.
When fighting bosses or the sporadic traps, the player is simply not
allowed to escape.
This game features a Battle Fuck system.
Fighting enemies means having sex with them! The player exchanges attacks
with his enemies in a turn based fashion.
Enemies reacto to attacks by moaning and animating in Flash.
If an enemy is defeated she will ascend to heaven. There are over 20 types
of enemies in total.

Download EroticalNIGHT_v1.5.21.rar from fboom.me (77.19 MB)

Download file – 77.2 MB