Cosplay Fetish Academy / Seiai Gakuen Fechika [English Version]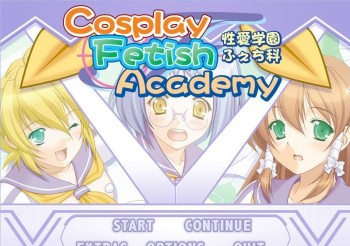 NFO
Developer: Sekilala
Publisher: G-Collections
Platform: PC / Windows
Genre: VN, Harem, Comedy
Censorship: no
Language: English
Description:
My name is Ryouji, and I'm just an average student at Seiai Academy. I live my days happily with my twin cousins Shana and Yuuki who are staying at my house to go to the Academy as well, but one day at the end of summer vacation our lives are changed for ever.
Stopping by the shrine where Yuuki worked part time as a miko priestess after my own part time job, we were about to go home together when suddenly thunder roared through the cloudless sky. Looking up I gathered Yuuki and Shana under me and ducked – promptly passing out!
When I came to I felt fine, but my cousins were looking around with worried expressions. The shrine was near several girls' schools, and as usual many of the students were walking down the street nearby – but they were wearing the most outlandish costumes!

Download Cosplay Fetish Academy – Visual Novels.rar from fboom.me (701.09 MB)

Download file – 701.1 MB