Edelweiss Eiden Fantasia [MangaGamer ] [English Version]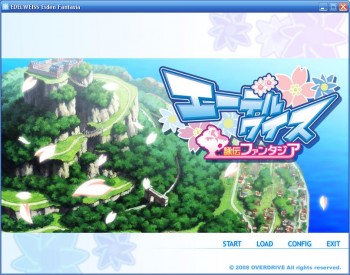 Adult Porn-Game
NFO
Genre: VN, Animation, Comedy, Romance, Straight
Censorship: None
Developer: Overdrive
Publisher: MangaGamer
Platform: PC / Windows
License: Freeware
Language: English (text / interface)
On a desert island in the south there lies an all-girls school where students learn the mysterious art of alchemy. This strange academy, known as Eiden Academy, is the setting of Edelweiss, a tale of laughs and tears shared between the heroines, who lived their lives free of men on this island, and Haruma Kazushi, one of the silly boys who came here to score. This is an all-new game which picks up where Edelweiss ended.
The heroines of this new story are Takase Sakura and Fujisaki Rin, two background characters who dominated the popularity polls and conquered the original heroines. This fan-disk will present an all-new story full of laughs and naughty things.
One scenario begins when Sakura, the girl many people suspect is a lesbian, is hanging with the guys and evaluating other chicks with them. When Kazushi says there's no way he would ever fall for Sakura, Sakura puts her pride as a girl on the line and their competition begins. If he falls for her, he loses! As their classmates start a betting pool to see who'll win and interfering to better their chances, who knows what ending awaits, let alone how Eiden Island's power will affect the outcome!
The other scenario begins when Rin and Kazushi are both elected as their class representatives. As the two grow closer together, Kazushi winds up in an accident trying to save her. As a result, he suddenly finds himself with something that speaks residing in his crotch.

Download Edelweiss Eiden Fantasia [MangaGamer ] [English Version].part1.rar from fboom.me (400.00 MB)
Download Edelweiss Eiden Fantasia [MangaGamer ] [English Version].part2.rar from fboom.me (376.16 MB)