[G-Collections] I'm Gonna Serve You 4 [English]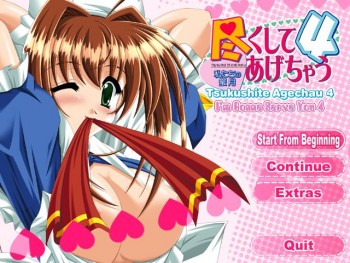 Adult Porn-Game
NFO
Genre: VN, Straight, Group
Censorship: None – Uncensored
Developer: Trabulance
Publisher: G-collections
Platform: PC / Windows
Publication Type: Original
License: Freeware
Language: English (text / interface)
Description:
My name is Aoyama Kouji. I'm an ordinary guy living an uneventful life as a university student. Because my parents are separated, my uncle, a somewhat strange man who runs a restaurant, has taken the role of being a father to me. Although it's hard work, I actually like helping out at the restaurant from time to time.
One day, while walking with Himeko, who I've been friends with since childhood, I was hit by a car and nearly died! Thanks to a miracle, I awoke to find myself in a hospital bed in America. After some bizarre adventures, I return to Japan and decide to move into my uncle's house where I can help him run his restaurant.
Imagine my surprise when several beautiful girls approach me to tell me how happy they are that we'll be working together. First, there's Himeko, who tells me she'll do anything for me, followed by Chizuru, a beautiful girl who lives in the neighborhood who wants to shower me with attention. Takano, a gorgeous girl from my class, also confesses her desire to do anything she can for me, as does Leo, the quiet girl who lives and works at the restaurant. At first I think they're just happy that I wasn't killed in the car accident, but gradually I realize that they've all fallen in love with me for some bizarre reason. The girls are spending every moment they can, taking care of me and giving me all their attention.
Am I the luckiest guy in the world, or what?
Important:
1. Mount cd1.ccd With Daemon Tools.
2. Install The Game.
3. Mount cd2.ccd and start the game.
4. You can play the game without cd2 if you use the crack, but the music will not play. In order to play the music you need to keep the cd2 mounted and play the game from the autoplay menu on it.

Download [G-Collections] I'm Gonna Serve You 4 [Crack is included]] [English].part1.rar from fboom.me (650.00 MB)
Download [G-Collections] I'm Gonna Serve You 4 [Crack is included]] [English].part2.rar from fboom.me (585.91 MB)