Homeward [Visual Novel, English]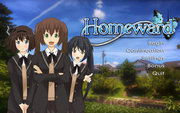 Adult Porn-Game
NFO
Censorship: None – Uncensored
Platform: PC / Windows
Developer: Love in Space
Language: English
Description:
From the creators of Sunrider Academy.
"This wasn't my home" thought Riku Saionji as he walked into his new house. After ten years of moving around the world with his father, he has returned to Japan, the place of his birth. After having lived in so many places, he has lost all conception of what it means to have a home.
What does a home mean?
You are Riku, the son of a diplomat who has relocated from Japan several times, most recently living in the United States. His estranged mother's recent unexpected illness forces Riku and his father to move back to Japan to care for a younger sister he does not remember, and finish his high school education in the town where he met his first friend as a small child.
As high school students together, you, she, your sister and the class rep make fast friends and have adventures together through the year in this slice of life eroge.
Homeward is a free traditional visual novel. Over 100,000 words and 35 CGs make up three endings and over 8 hours of story, available for Windows XP+, Mac OS X 10.4+, and Linux.

Download Homeward [Visual Novel, English].rar from fboom.me (447.35 MB)

Download file – 447.3 MB