Miss Leet in Prison – Love Potion Sex Training Revenge [English]
Adult Porn-Game
NFO
Censorship: Censored
Developer: Black Lilith
Publishers: Black Lilith
Language: English
Description:
Watch the female executive of an evil syndicate be taken to the limits of shame!
This is the story of the revenge by a man this former executive once stole everything from.
This story is told from the eyes of Yuu Saito, a space investigation detective with a mysterious past and a grudge against Misleet. Behind closed doors he tries to break and demoralize her after she is captured by a rookie chief space detective named Fio and imprisoned in a space investigations HQ.
He has to break her in before the space police escort reaches Earth. His plan is to destroy her pride and turn her into a sexual "commodity" before that happens. Complete domination and torture will be the evidence of his revenge! He won't give her to the police until she's totally dominated!!
Misleet isn't the only one being defiled. If she gets in the way then you can also choose to give the new space police detective Fio a taste of sexual ecstasy!!
Important:
1. You need to change locale to Japanese.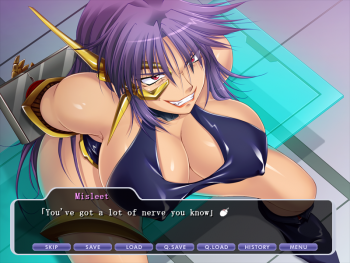 Download file – 400.3 MB

Download file – 400.3 MB