Rag shoot 1-10 (Studio-ray) [English Version]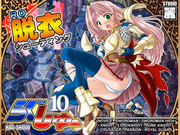 Adult Porn-Game
NFO
Year: 2008-2015
Genre: Puzzle, Stockings, Fantasy, Ecchi
Censorship: yes
Developer / Publisher: Studio-ray (studio 麗)
Platform: PC / Windows98 / WindowsMe / Windows2000 / WindowsXP / WindowsVista / Windows7 / Windows8
Publication Type: Original (licensed)
License: Freeware
Language games: English
Language interface: English
A Ragn*rok Onl*ne strip shooting game with 5 types of evolving player characters!
* A new sensation of shooting
Use the mouse to move your character in all directions
Icons on the left and right show you which skills and items you've acquired
Passive skills work automatically; select others to unleash hell!
Strip the background CGs of their clothes in real time whilst you pummel the enemy.
There are 8 images x 9 stages for 72 total CGs! (only 3 poses though)
* This game may receive updates and DLC
RAG-SHOOT 10 was first released at Comiket 87.
Redownload it now and again for the updates!
list Game:
Vol1 (2008/07/03)
Vol2 (2008/08/19)
Vol3 (2008/12/17)
Vol4 (2009/02/03)
Vol5 (2009/06/16)
Vol6 (2009/08/17)
Vol7 (2009/12/02)
Vol8 (2010/01/05)
Vol9 (2011/01/12)
Vo10 (2015/01/30)

Download Rag shoot 1-10 (Studio-ray) .part1.rar from fboom.me (900.00 MB)
Download Rag shoot 1-10 (Studio-ray) .part2.rar from fboom.me (900.00 MB)
Download Rag shoot 1-10 (Studio-ray) .part3.rar from fboom.me (581.80 MB)

Download file – 900.0 MB
Download file – 900.0 MB
Download file – 581.8 MB