Onsen Hime Secret Pleasures [English Version]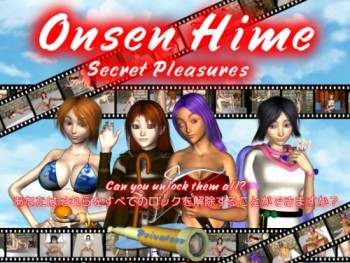 Adult Porn-Game
NFO
Genre: jRPG, allsex, 3DCG, Big Breasts, Male Hero
Censorship: Yes
Developer / Publisher: Privateer
Platform: PC / Windows
Publication Type: License
License: Freeware
Language games: English
Language: English
Description:
Welcome to the debut of the first Onsen Hime video game – Onsen Hime Secret Pleasures.
Playing as a young man on his journey for employment, players will find themselves stranded at Crossroads Inn with four beautiful women.
Can you get the girl? How about all four? "Unlock" the secrets to the girl's hearts and as you raise each girl's affection you will receive many pleasurable rewards.
But beware ….. if you get them angry ….. the animations will lock up again!
2-D RPG action is blended with 3-D erotic graphics and animations of an Onsen Hime release. We've finally dared to go where many big name RPG publishers have not gone before!
Features:
-Simple Point and click game play using both keyboard and mouse
-16 Sexual animations to unlock
-36 Nude pictures to unlock
-4 Hot girls to fall in love with
-Recruit Teammates and use their skills to help you get the girl
-Alchemy System
-Game Saving functions
-Can Be upgraded with future Onsen Hime Expansions
-English / Japanese User Manual
-In-Game English / Japanese Help Menu
To play you must install the RTP (Runtime Packcage)

Download Onsen Hime Secret Pleasures (Privateer).rar from fboom.me (453.96 MB)

Download file – 454.0 MB