Pretty Warrior May Cry – Enhanced Edition – version 2.2 [English Version]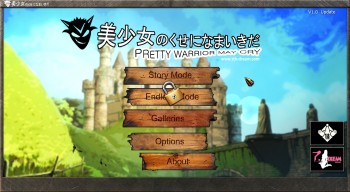 Adult Porn-Game
NFO
Genre: 3DCG, jRPG, Animation, Flash, Fantasy, Anal, Blowjob, Slut, Big tits, Titsjob, Group, Gangbang, M onsters, Knight, Magical Girl, Succubus, Tentacles
Censorship: Yes
Developer / Publisher: 7thDream
Platform: PC / Windows2000 / WindowsXP / WindowsVista / Windows7
Publication Type: Original (licensed)
License: Freeware
Language games: Japanese / English
Language interface: Japanese / English
Description:
Game Play:
1, Train and upgrade your monster army, You have 12 races in total.
2, Create your dungen by digging, You can customize your own labyrinth and place your monster in there, wait for the warriors coming.
3, The male monster will rape the female warriors, And the female monster can attract the male warriors. While they having sex, the 3D High-res animations will be displayed real-time in the right window. But to defeat the same sex enemies can only though fighting.
4, Each race of monster have their own ability, Some can make warriors weak, Some can slow them down, Some can split, And some are good at fighting, etc.
5, Once you successfully captured a warrior, you can torture and rape her/him after battle, Train her/him to your slave, Then you will be able to use her/him to against your enemy in next battle.
6, You can collect items in battle, to help create your new monsters.
version 2.2
This is a super upgraded vesion of "Pretty Warrior May Cry"(Bishoujo no kuse ni namaikida) in 2D style!
We did alot improvement and added alot interesting stuff to it. Most important, you can customize the story in this version!

Download Pretty Warrior May Cry Enhanced Edition_ENGLISH.part1.rar from fboom.me (600.00 MB)
Download Pretty Warrior May Cry Enhanced Edition_ENGLISH.part2.rar from fboom.me (441.34 MB)