Mizuki Island (Masurao) [English Version]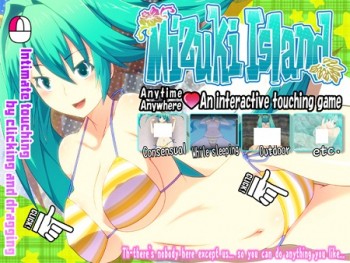 Adult Porn-Game
NFO
Genre: Simulation, Animation, Flash, Straight, Bikini, Oral, Paizuri, Sleep Assault
Censorship: Yes
Developer / Publisher: Masurao
Platform: PC / Windows
Publication Type: License
License: Freeware
Language: English
Description:
It was a stormy night. The choppy seas tossed Mizuki and Kenichi onto a deserted beach.
Her enticing breasts barely contained in her bikini, she and he begin a solitary
life of survival in this undiscovered, uninhabited island.
* Click the perky turquoise girl to disrobe, titillate, penetrate, masturbate and ejaculate on her!
Mizuki Island is an interactive touching game with a responsive heroine.
* Sex scenes traverse from the beach to the jungle, desert to home, sneaking at night to consensual and burgeoning lovers, etc. with a fully voiced, fully animated, fully touchable female character!
* Stroke and poke, minigames, each with choices that change your appeal and hunger gauge and advance the animation novel story.
From today on, this lonely rock… her paradise… is Mizuki Island!

Download [MASURAO] Mizuki Island – RE114117 XXX GAME.part1.rar from fboom.me (600.00 MB)
Download [MASURAO] Mizuki Island – RE114117 XXX GAME.part2.rar from fboom.me (600.00 MB)
Download [MASURAO] Mizuki Island – RE114117 XXX GAME.part3.rar from fboom.me (480.20 MB)

Download file – 600.0 MB
Download file – 600.0 MB
Download file – 480.2 MB