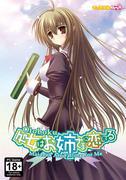 Adult Porn-Game
NFO
Genre: School, Drama, Romance, Trap, Yuri, Pee, Masturbation, Group
Censorship: None – Uncensored
Developer / Publisher: Caramel Box / MangaGamer
Platform: PC / Windows
Publication Type: License
Medicine: Present
Language games: English
Description:
One day, the heir to the prosperous Kaburagi Corporation, a soft-spoken yet cultured young man, received a visit from his family lawyer. He came to pass on the final wish of the boy's late grandfather: that he attend an all-girls school!
With his childhood friend Mariya – a talented fashionista – to help him with the "transition," Mizuho enrolls in his new school. It's not long before a series of strange misunderstandings leads to him being elected the school's "Elder Sister," the idol of the entire student body!
It's one wild event after another at this all-girls charm school! Can Mizuho make it through the year with his identity – and his dignity – intact?
Important:
1. Mount with DAEMON Tools and install.
! If you have problem with the letters in the game, install VeraMoBd.tff. You can get it from here: link Just copy the file in your C:\Windows\Fonts directory.

Download Otoboku – Maidens Are Falling for Me! .part1.rar from fboom.me (900.00 MB)
Download Otoboku – Maidens Are Falling for Me! .part2.rar from fboom.me (900.00 MB)
Download Otoboku – Maidens Are Falling for Me! .part3.rar from fboom.me (900.00 MB)
Download Otoboku – Maidens Are Falling for Me! .part4.rar from fboom.me (210.69 MB)

Download file – 900.0 MB
Download file – 900.0 MB
Download file – 900.0 MB
Download file – 210.7 MB